Unrecognized key "intro" in recipe shortcode. Only yield" is supported.
Makes 3 dozen
Shopping List
½ pound (2 sticks) butter
⅓ cup sugar
8 oz almonds (unroasted, skins on)
2 cups cake flour
½ tsp vanilla extract
¾ cup confectioner's sugar, for dusting
These cookies have a delicious crumbly texture. I'm not a fan of confectioners' sugar, but the coating on the on the outside works perfectly.
Using a mechanical grinder (meat, nut, whatever), grind
I suppose you could use 8 ounces of almond flour, but leaving the skins on provides a darker result and more flavor.
In a bowl, cream
½ pound (2 sticks) butter
Add
⅓ cup sugar
½ tsp vanilla
When thoroughly mixed, add the ground almonds. Then blend in
to make a uniform dough. ♦ATTN Using cake flour provides the cookies with a better texture. Place the covered dough in the refrigerator for 1-2 hours.
Preheat the oven to 325º F. After the dough has rested, measure out uniform pieces. I used a scale and aimed for 22g pieces: they're a little bigger than I'd have liked because (to my surprise) the dough rose a bit as it baked. You can just use a spoon or approximate uniform pieces with your eye: ♦ATTN that's better for your mental health.
Line two cookie sheets with parchment paper. Form crescents, making sure they taper down at the points. Place the cookies on the parchment-lined pans: they can be fairly close because they don't expand much.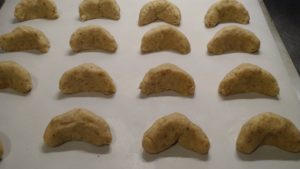 Bake for about 12 minutes and then check on them. If you need to rotate the racks or swap the racks top to bottom. Keep an eye on them until they are golden. At the size I made the cookies they took about 22 minutes to bake, but your timing may vary. You definitely want the cookies watch the cookies until they take on a nice color.
When the cookies come out of the oven, coat them in confectioners' sugar. The cookies can break, so my approach was to dust them using a strainer with confectioners' sugar right over the cookie pans. Then I used a spatula to move the cookies over a little to place the bottoms onto some of the spare sugar on cookie sheet.
Some people dust them a second time after they cool, but it's more sugar than I like.
From my sister, Mindy, who probably got it from a family friend.