Makes about 4 half-pint jars
Shopping List
1 quart fresh sour cherries
⅔ cup brown (or white) sugar
1 package Pomona's brand pectin
1 tsp kirsch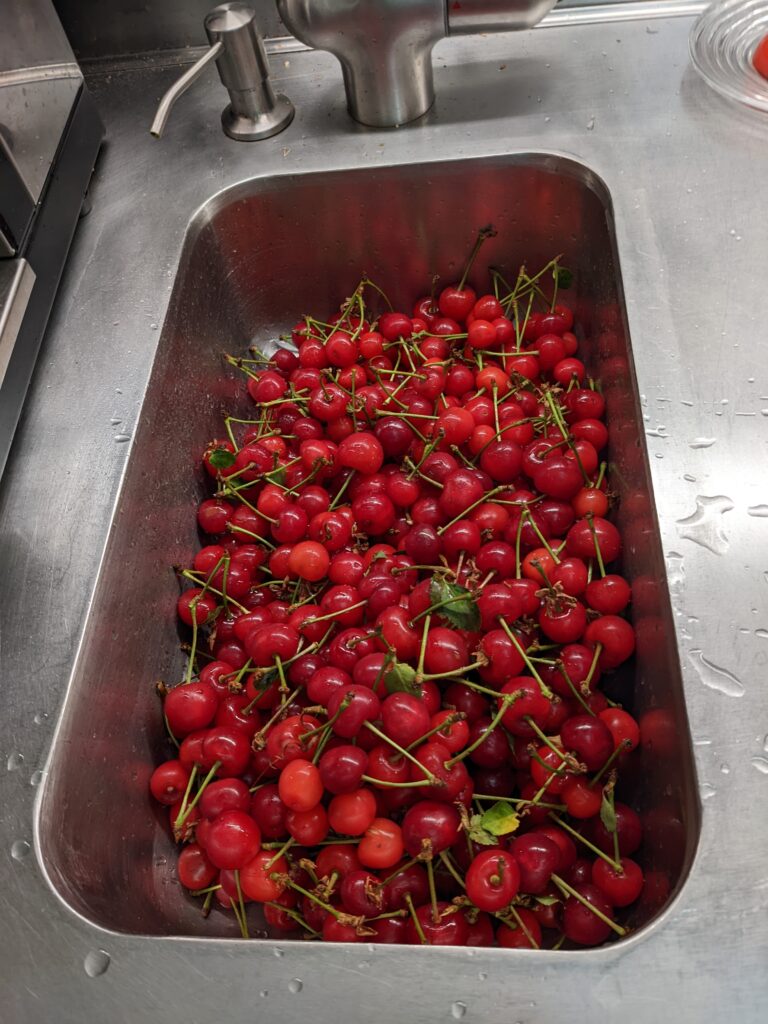 I like to make this in larger batches and you'll be happy to know it scales up.
IF YOU REALLY WANT TO KNOW A LOT ABOUT PECTIN…
And now an explanation about ♦ATTNPomona's brand pectin. If you want to become a Professor of Pectin, read this article. There you will learn that there are low- and high-methoxyl pectins, derived from a variety of plants. What we commonly use is high-methoxyl pectin and it works in the kinds of recipes that call for cup-for-cup fruit to sugar ratios. It reacts at a particular temperature to form a gel. Low-methoxyl pectin can come from certain plants (sunflower seed heads, algins) and can also be derived from high-methoxyl pectin through a chemical process. Pomona's pectin is made from citrus fruits exclusively. Low methoxyl pectin produces a gel in the presence of calcium ions. Pomona's package includes a powder (a component found in baking powder) which, when dissolved in water, releases calcium ions. All of this is to say that the procedure is different with this type of pectin and that it doesn't require any sugar to form a gel. In fact, you can use non-sugar sweeteners (natural or artificial) or even no sweetener and form a gel with this product. ♦ATTN Overcooking the jam or overprocessing the jars can cause the gel to break down, so work according to the directions Pomona provides. Pomona has a great FAQ about their product if you don't want to study for the full Professorship in Pectin.
OUR REGULAR PROGRAMMING WILL NOW RESUME
Wash and pit
This should produce 4 cups of fruit and from this point forward, the recipe works with that measurement as an assumption. If you are scaling up or down, just work relative to the volume of pitted fruit.
After pitting the cherries, cut them up. I cut them in half but you can be less fixated on how you chop them. Put the fruit in suitably large pot and to it add
2 tsp calcium water (prepared according to the package directions
Heat the fruit and while it is coming up to a boil, combine
⅔ cup brown (or white) sugar
2 tsp Pomona's pectin
When the fruit comes to a boil, remove from the heat, stir in the sugar-pectin mixture and combine thoroughly. When it is fully mixed, return the pot to the heat, bring to a boil, a minute or two more. Remove from the heat. If you like, you can test the gel by putting a small bit on a plate that you've chilled in the freezer. You do keep saucers in your freezer all summer, don't you?
If you like, stir in
Transfer jam to sterilized half-pint canning jars, cover with sterilized lids and rings and process in a water bath for 5 minutes (add a minute for each 1,000 ft above sea level). After processing, let jars cool and confirm they have sealed down securely.