Unrecognized key "intro" in recipe shortcode. Only yield" is supported.
Makes two 11-inch pizzas
Shopping List
Type "00" soft wheat flour
Yeast
Measure the flour by weight: you can scale this recipe up. See the note at the end.
In a bowl, measure
320g type "00" soft wheat flour
scant 1½ tsp salt

1

/

16

to ⅛ tsp yeast
Regarding the yeast, for a 6-pizza recipe, you need about ½ tsp yeast, so go easy and don't worry about being too precise. Stir the dry ingredients together. Add
Stir until a ball forms. Transfer it to a clean bowl and cover with plastic wrap or a lid. Let sit for 18 to 24 hours and leave at room temperature.
After the rising time, the mixture will look a bit bubbly. Gently dump it onto a floured board, shape into a rectangle. Divide into separate pieces for each pizza (two in this case). For each piece, pull the four corners into the center. Smooth into a ball, dust with flour and place on work surface with the seam down. Let rest for 1 hour covered with plastic wrap or a damp towel.
♦ATTN If you're working ahead of time, you can place the balls of dough in the refrigerator for up to 3 days. When you're ready to use the refrigerated dough, remove it from the fridge one or two hours before you're ready to bake.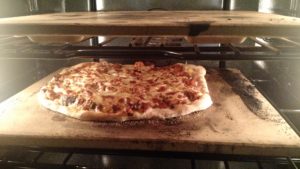 Start preheating the oven. I bake my pizza on a pizza stone with ♦ATTN another pizza stone on a shelf about 4 to 6 inches above it. I bake at the highest temperature, 550º F convection in my case, so it takes almost an hour for the oven to heat up and for the stones to get thoroughly hot. Be sure to wait until the stone(s) heat up completely.
Form the pizza by gently forming into a circle, handling the dough as little as possible. Be sure to leave a bit of an edge around the pizza to form a crusty edge. Stretch the dough to an 11-inch round. Transfer the shaped dough to a baker's peel that is generously coated with cornmeal. Top the dough with ingredients. Bake for 6½ minutes (adjusting for your own oven's temperature).
When ♦ATTNscaling up this recipe to make more pizzas, use this guide. Per pizza 160g flour, scant ¾ tsp salt, speck of yeast (keep reading), and ½ cup water. For 6 pizzas the proper amounts are 1kg of flour, 4 tsp salt, ½ tsp yeast and 3 cups water.
This caramelized onion pizza (pictured above) is made by slow-cooking chopped onions in olive oil. Cover the dough with mozzarella and bits of shaved romano cheese and then cover with a thick layer of the golden onions. Follow baking directions above.
Inspired by