Shopping List
1 large bunch of beets (3-4 medium-to-large beets)
1 medium onion
1 TBL sugar
sour salt (citric acid), or a lemon
8 oz container of sour cream or yogurt
Peel and cut into largish dice (⅜- to ½-inch on a side)
3-4 medium-to-large beets
This will work just fine with small beets, but they are a lot more work to peel. Place them in a 2-quart sauce pan and add
cold water to within an inch of the top of the pan.
1 medium onion (150g), minced finely
1 tsp salt
Bring to a boil, reduce to a simmer and cook for 20 minutes. The beets should be tender but not mushy, and they will probably need another 5 to 10 minutes to finish cooking. Turn off the heat and remove any scum that collects at the top of the pot. Add
1 TBL sugar
¼ tsp sour salt (citric acid) or 3-4 TBL of lemon juice
Taste for flavor: you may need more sugar and more sour salt to bring out the overall flavor of the soup. If you are using sour salt and it's in a powder form, it's easy to dissolve, but if you have chunks, you'll have to dissolve it while the liquid is still warm.
Let stand to cool for 30 minutes. In a 1 quart bowl, place
¾ to 1 cup of sour cream or yogurt
Add about ½ cup of liquid from the soup and stir with a spoon or whisk until it is smoothly mixed in. Add more liquid and repeat. When the sour cream mixture is fairly pourable, add it back into the pot of soup. Stir and adjust any seasonings as needed. Chill in refrigerator.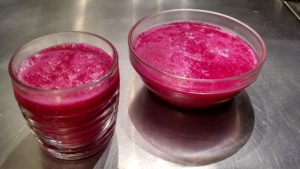 ♦ATTN My mother would make borscht and only add the sour cream just before serving. This allowed her to freeze the soup and serve it at a later time. I do it my way because I don't freeze the borscht and thus it's ready to eat any time I want to take a bowl from the refrigerator.
My mother would garnish borscht with diced boiled potatoes, diced cucumber, minced raw garlic or diced hard-boiled eggs. The only one of I recall linking was the minced raw garlic, but use what you prefer, or be a purist and don't add anything!