Makes a 12-inch crostata, serving about 8 people
Shopping List
8 ounces (2 sticks) butter
¼ cup sugar
2-4 TBL almond flour or blanched, slivered almond ground finely
2 cups flour
3 pounds fresh cherries, pitted (or other stone fruit)
1 TBL tapioca starch or corn starch (for juicy fruits like peaches; not needed for cherries)
It is important that you ♦ATTN make this recipe the day you are going to serve it. I try to time it to come out of the oven an hour before my guests arrive, or to serve warm, I sometimes put it in the oven even later. I believe that the moisture of the fruit is what ruins the crust. See the note at the end if you'd like to make a half-recipe, as pictured above.
In food processor bowl, combine
2 cups flour
1 TBL sugar
½ tsp salt
Add
6 ounces (1½ sticks) cold butter, cut into dice
Pulse food processor until mixed. With the motor running, in a slow stream begin to add
½ cup ice water (
it has to be really cold)
♦ATTN however you will not use all the water. As soon as the dough starts to come together, stop the motor. (Discard any extra water.) Form the dough into a disk, wrap in plastic wrap or place in a sealed container and ♦ATTN refrigerate for at least one hour.
Prepare the fruit just before the dough comes out of the refrigerator. If using cherries, wash and pit them, removing stems. If using peaches or other larger stone fruit, peel them by dipping briefly in boiling water, cut into wedges or desired shape.
Preheat oven to 400º F.
In a small bowl combine the following ♦ATTN for cherries
2 TBL almond flour
1 TBL flour
1 TBL sugar (for sour cherries, use 2-3 TBL depending on your liking)
♦ATTN If using fruit other than cherries, use (instead)
3 TBL almond flour
2 TBL flour
1 TBL tapioca starch or corn starch
1 TBL sugar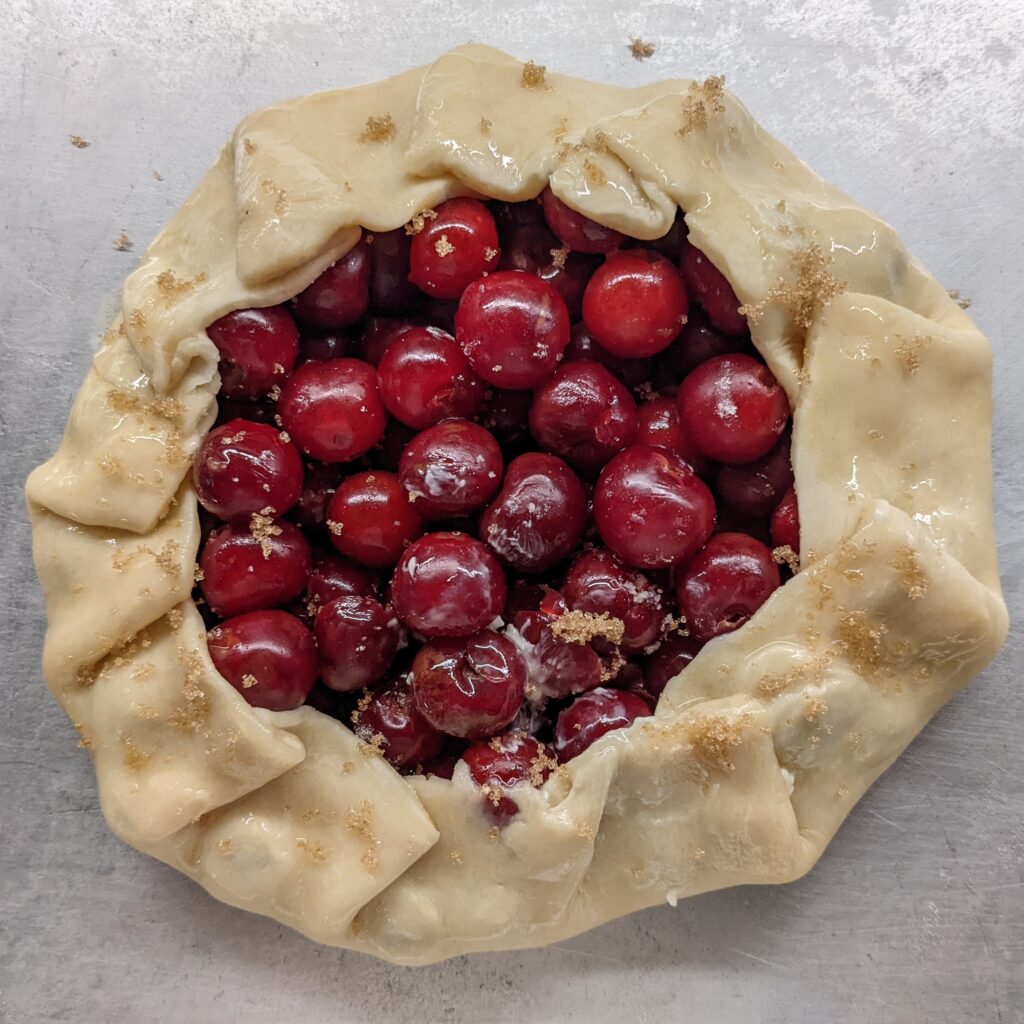 Roll the dough into a 15-inch circle, even up the edges of the dough and transfer to a baking tray that has sides. Spread the almond/flour mixture in the center 12-inch circle and place the fruit in that area. Fold the outer 1½ inch edge of dough in, making a pattern of decorative folds with the margin, as shown in the picture. Spread
on the dough and then sprinkle with
2 TBL sugar (sometimes I use Turbinado sugar)
Bake for 50 to 60 minutes until the crust is lightly browned and the fruit is bubbling. Remove and serve slightly warm or at room temperature.
NOTE: You can easily cut this recipe in half. Roll the dough into a circle that measures just under 11 inches across and leave the outer 1½ inches clear to fold over, as in the full recipe.
Adapted from Food & Wine Magazine.