Makes about 36 dolma, but see note at end of recipe
You will need a steamer basket with a flat surface, not one that is bowl-shaped. One of my pots came with such a basket. An Asian bamboo steamer should work very well for this purpose.
Cook, covered, until not quite fully cooked:
1 cup brown (or white) rice
1 tsp salt
¾ tsp dried thyme (or fresh or a mixture of oregano and thyme)
2 cups water, or more if your rice needs it
Note that the if the rice still has water left when it reaches the completed stage of cooking, just drain off the water. For reference, white rice reaches this stage in about 14 minutes.
Meanwhile, prepare
1 medium onion, peeled and chopped very finely. (The volume of chopped onions will be about equal to the quantity of raw rice you cooked.)
Saute in
a couple glugs of olive oil
Make sure that the onions do not brown, and cook until tender, adding
1 medium or 2 small cloves of minced garlic
Let the garlic cook for another minute or two. Remove from heat and combine with the cooked rice.
For a meat filling…
Using some oil, saute
1¼ pounds ground turkey, lamb or beef — to your preference.
salt, to taste
until cooked, but don't dry it out, and be sure to keep it broken into small bits. Add to the rice mixture and check the seasonings.
For a Vegetarian Filling
For a vegetarian filling, instead of the meat add the following to the filling
½ cup toasted pine nuts
½ cup currants
¼ tsp cinnamon
Taste the filling and adjust the seasonings as needed.
While the filling cools, prepare the leaves…
If you can obtain fresh, young grape leaves, use them. Note that if you find a source they can be frozen or preserved until you are ready to make the recipe. See this article for more details on how to do that. If using fresh leaves, pour boiling water over them to soften them up. Otherwise, as we do, drain and rinse
1 pound (now 15-ounce) jar of grape leaves
Trim off any stems, discarding leaves that are torn or have many holes. Arrange them in stacks so the side with the veins is up. Don't use torn leaves or ones with many holes.
Filling the leaves
♦ATTN With veined side up and the stem end closest to you, put 1-2 tsp filling at the center of the leaf. The amount filling needed will depend on the size of the leaf, but ♦ATTN do not over-stuff them because you want to roll them up tightly! Fold the left and right lobes nearest the step over the filling at a 30-degree angle, then bring the sides in and finish rolling up.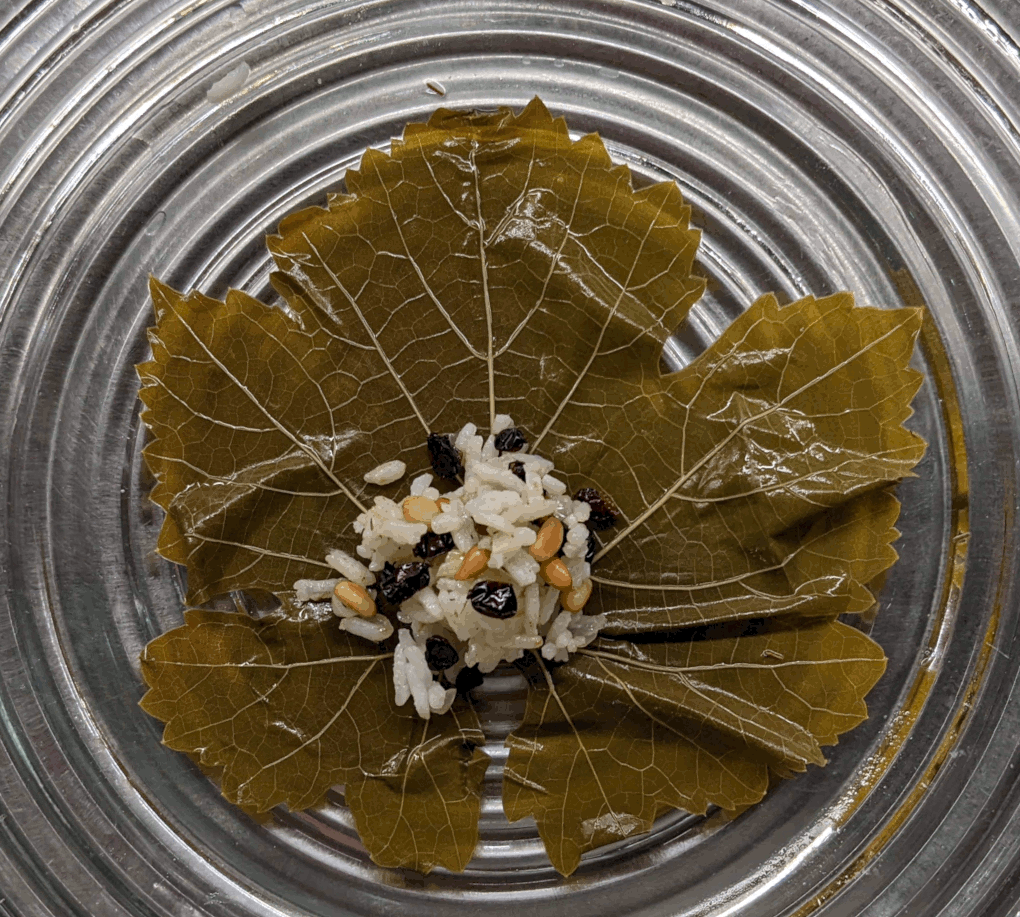 Squeeze it a bit to hold it in shape and put it in the steamer basket, packing them tightly in the steamer basket. I usually put them on end, but I've also stacked them up in a couple layers.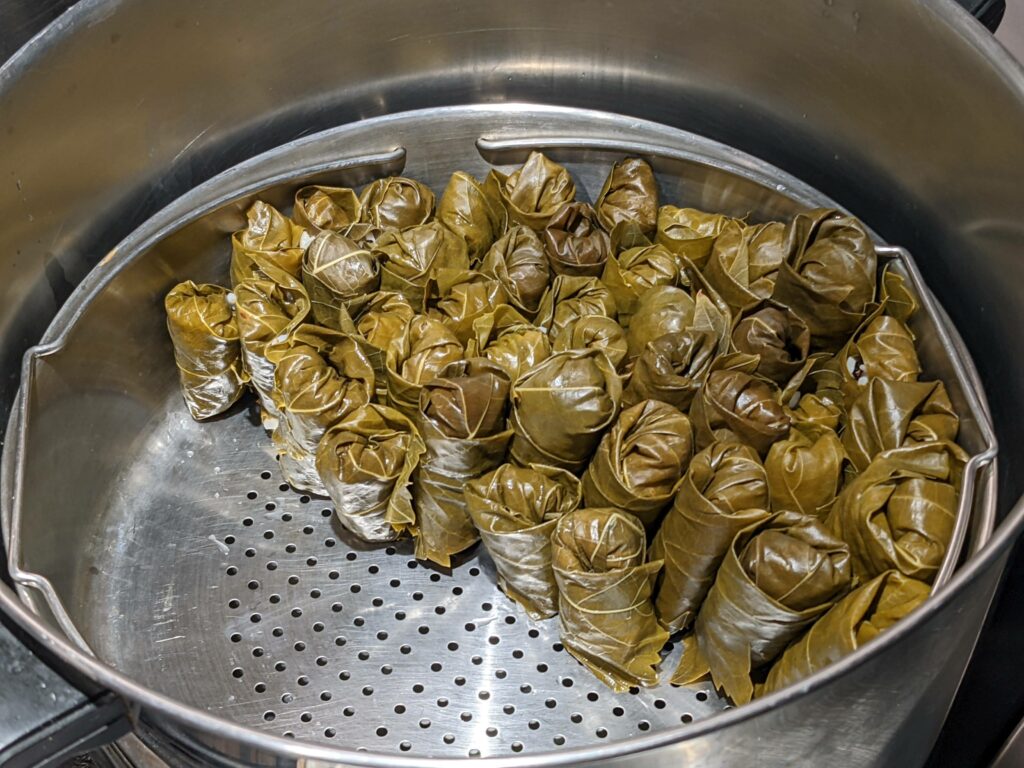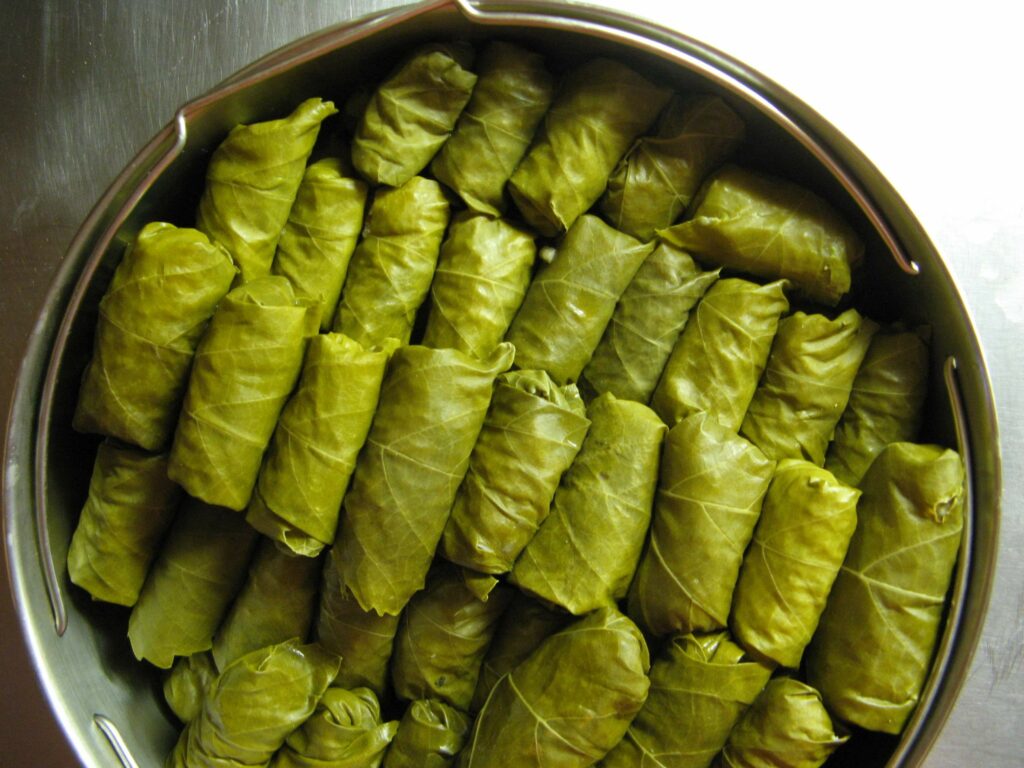 Put the steamer in a larger pot with water at a level below that of the basket bottom. Cover the pot and cook for 45 minutes, ♦ATTN making sure the steamer does not dry out. The leaves will get tender and the rice will finish cooking.
Serve with a yogurt.
NOTE: The exact number this will yield depends on the size of the leaves and how much stuffing you attempt to put into them. This has produced anywhere from 30 to 48 dolma, depending on the leaves I was working with.