Don't bother with this unless you have amazing tomatoes. Coupled with grilled thin layers and a spicy-smoky citrus dressing, this is one of our summer favorites.
Makes 4 servings
Prepare Chipotle Vinaigrette or use some other creamy salad dressing (you want to dilute it a bit if it's very thick). Pluck and wash
and dry them thoroughly. Roughly chop them and set aside.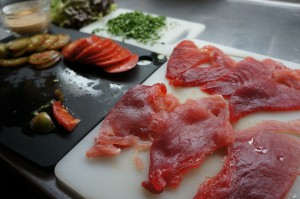 If you can convince your fish vendor to cut  ¼-inch thick slices, do it. If not, buy a thick tuna steak; freeze it for 8 minutes and slice it yourself with a very sharp knife with a long thin blade. You will need 3 or 4 slices of tuna per serving.
Wash and dry
3 or 4 heirloom tomatoes
9 to 12 lettuce leaves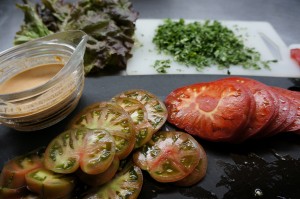 Cut the tomatoes into ♦ATTNthin slices. Tear away any tough or unattractive areas of the lettuce leaves. Arrange all the ingredients so you will have ready access to them as the assembly will proceed rather quickly.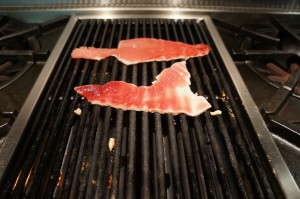 On each plate, place a lettuce leaf, a slice of tomato and splash it with 2-3 tsp of salad dressing. Brush the tuna slices with a little oil. Put a slice or two of tuna on the hot grill and ♦ATTNwatch it like a hawk. It needs to cook 15 seconds on each side, if that. Place the tuna on the tomato slice. Again, layer lettuce, tomato, dressing and the second piece of tuna. Continue working to make a third layer and end with a final lettuce leaf, tomato and a little more dressing. Sprinkle the reserved cilantro leaves over the top.