Unrecognized key "intro" in recipe shortcode. Only yield" is supported.
Serves 3 people, depending on the size of the duck breast and your appetites
Shopping List
1 thick duck breast (magret), preferably very thick
Score the skin side in ½-inch diamonds, only cutting into the fat layer and not into the meat. Make a mixture of 1 tsp kosher salt and ½ tsp ground black or green pepper. Rub the generously all over the magret.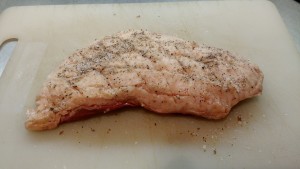 Preheat the oven to 450º F and as it nears the desired temperature heat an oven-proof pan on medium heat. I prefer a cast iron pan. When the pan is hot, place the magret skin-side down. Cook for 7 minutes on that side. Drain excess fat and turn over magret.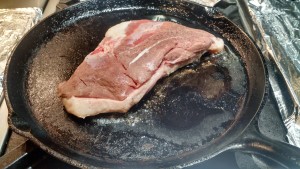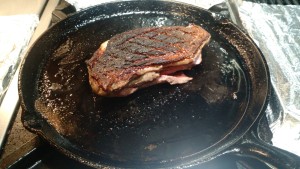 Place pan in oven for 5 to 7 minutes (for rare center). Remove pan from oven, place magret on board and let rest 3 to 5 minutes in a warm place before slicing. Be sure to slice across the grain of the meat.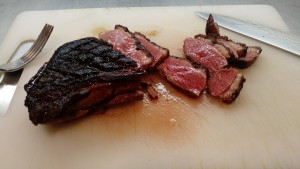 ♦ATTN These times are for a thick magret: if yours is thinner, the cooking time will need to be reduced.
When sliced, it will make about 12-15 slices and serve 3 people.